This area of the Gorge is a winter wonderland! There are so many things to do in Hood River this time of year, from skiing or snowshoeing at Mt. Hood to heated patios for outdoor beers and wine tasting—the snow never keeps us down. While it's best to be prepared for rain and snow, if you're lucky, you'll get to experience some beautiful crisp, sunny winter days. And sometimes, as Pacific Northwest weather can be unpredictable, a day that starts grey doesn't end that way.
Hood River is nestled in the scenic Columbia River Gorge, a small town with many activities. Extreme sports and outdoor enthusiasts flock here year-round to frolic in the great, vast wilderness. One of the most popular things to do in Hood River during the winter is head up to one of the many ski resorts on Mt. Hood. You'll also see a vibrant downtown scene for cozy dining selections and craft breweries.
Our Hood River lodging is the ultimate getaway for those looking for adventure in the Gorge. The six elegant guest suites are unique and can accommodate many vacation styles. From romantic getaways for two or small family trips, our Bed and Breakfast has an option for each. Only a few minutes from downtown (where you'll find many of the best things to do in Hood River), park your car, pack up your gear, and head out on an exciting Northwest adventure.
Make the Inn at the Gorge your basecamp and book your next stay today!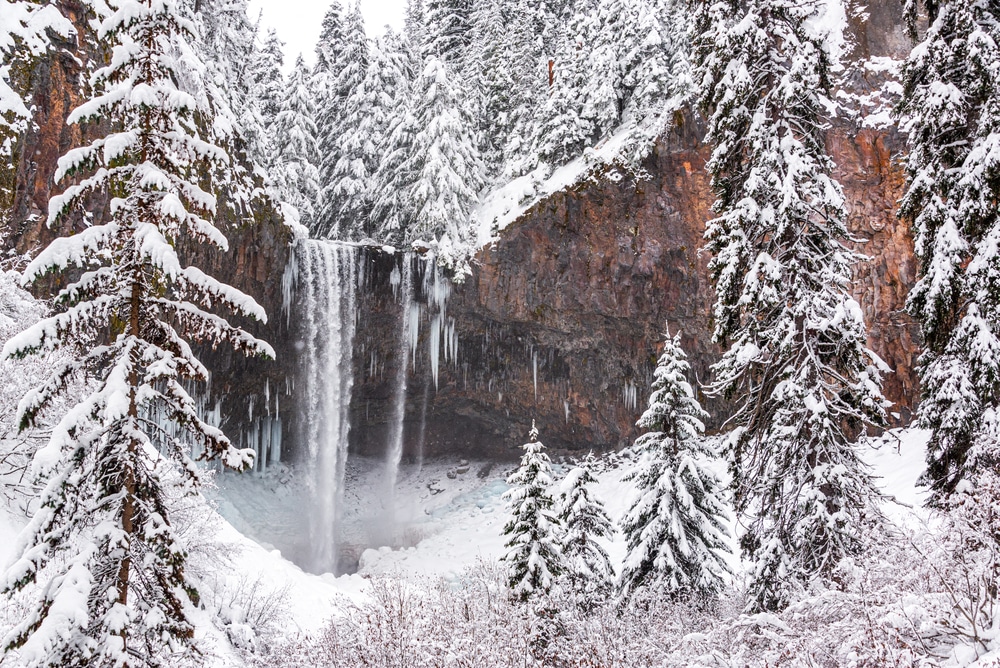 The Best Things to do in Hood River this Winter
Whether you're heading here to gear up and hit the slopes or just crack a beer and relax, there are so many things to do in Hood River for extroverts and introverts alike. As a guest at our Hood River Bed and Breakfast, we offer a place for you to rest your head, as well as extra amenities while you take an evening in to reset.
Here are the 10 best things to do in Hood River this winter:
Take a Winter Hike at the Catherine Creek Trail: About 20 minutes from downtown Hood River, you'll find the trailhead for one of the most picturesque hikes. This trail covers a variety of terrain, a natural rock arch, and sweeping views of the Columbia River with the classic Mt. Hood silhouette in the distance.
Mt. Hood Meadows Ski Area: As the largest ski area on Mt. Hood, this resort is a popular destination for skiers and snowboarders alike. One of the most exciting things to do in Hood River is night skiing! Mt. Hood Meadows has 140 acres lit up in the evening with this pastime in mind.
Tamanawas Falls Trailhead: At the base of Mt. Hood in the national forest, about 30 minutes from downtown, you'll find this 100 feet high by 4o feet wide waterfall. The trail is relatively easy for all hiking levels, but it's best to bring your snowshoes in the wintertime.
Playing in the snow: You don't have to be a downhill pro skier to enjoy Mt. Hood in the winter. In fact, one of the best things to do in Hood River is the snow-tubing hill at the Hood River Skibowl. Or head to the Cooper Spur Ski Area for miles of cross country skiing and snowshoeing trails.
Birdwatching along the Columbia River: During the winter months, you'll see nesting Bald Eagles and many different species of shorebirds along the river. Check out this collection of hikes in the Columbia Gorge area with birdwatching in mind.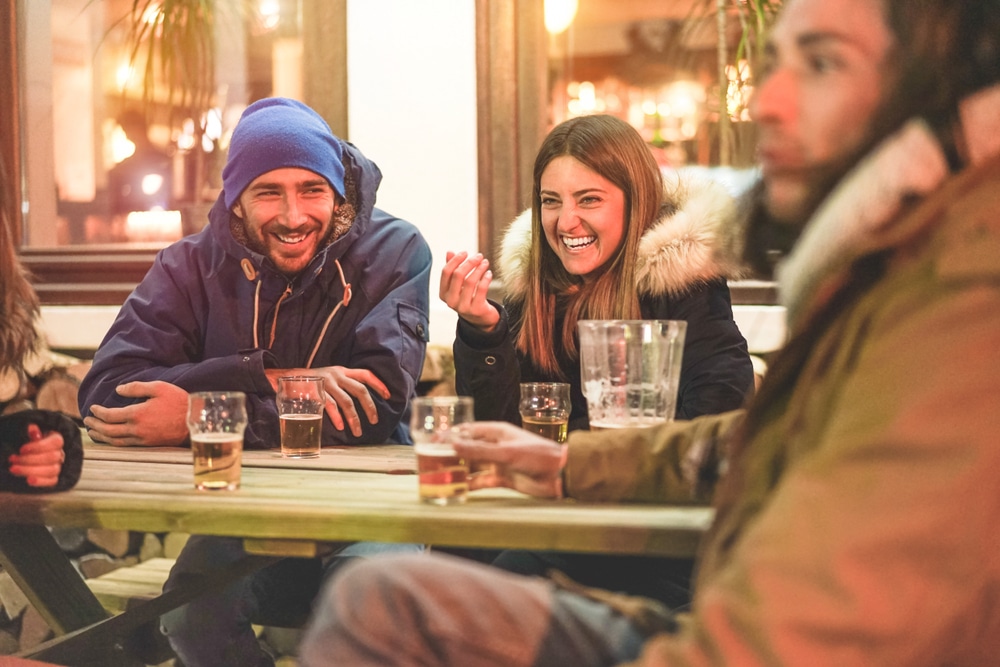 Drinks with Friends on an All-Seasons Patio: Oregonians know their craft beer, and Hood River is a hub of the ale brewing trade. All of the best downtown Hood River breweries offer all-weather outdoor seating with heaters, covered areas, or beautiful gas fire pits.
Upscale Dining at Celilo Restaurant: While dining out at our excellent farm-to-table-style restaurants and cafes is always one of the best things to do in Hood River, winter is such a cozy time to enjoy the bounty. Celilo Restaurant is a great date night spot for elegant seafood dishes, thoughtfully prepared small plates, and a creative craft cocktail menu.
Pop into Hood River Wineries for Flights: There's a great selection of tasting rooms in downtown Hood River for flights, glass pours, and bottle sales. Check out Evoke for outdoor patio seating and local cheese plates paired with their Oregon-grown varietals.
Warm drinks at Kickstand: Just a five-minute walk from our Bed and Breakfast, one of our favorite things to do in Hood River is grab a coffee and a sweet treat at this charming local cafe.
A Chilly Evening in our Steamy Hot Tub: As a guest at our Hood River lodging, you'll find out that one of the best things to do in Hood River is right in our backyard. Our large spa tub is set on our private grounds, meticulously maintained for proper safety measures, and the perfect place for a glass of wine under the stars.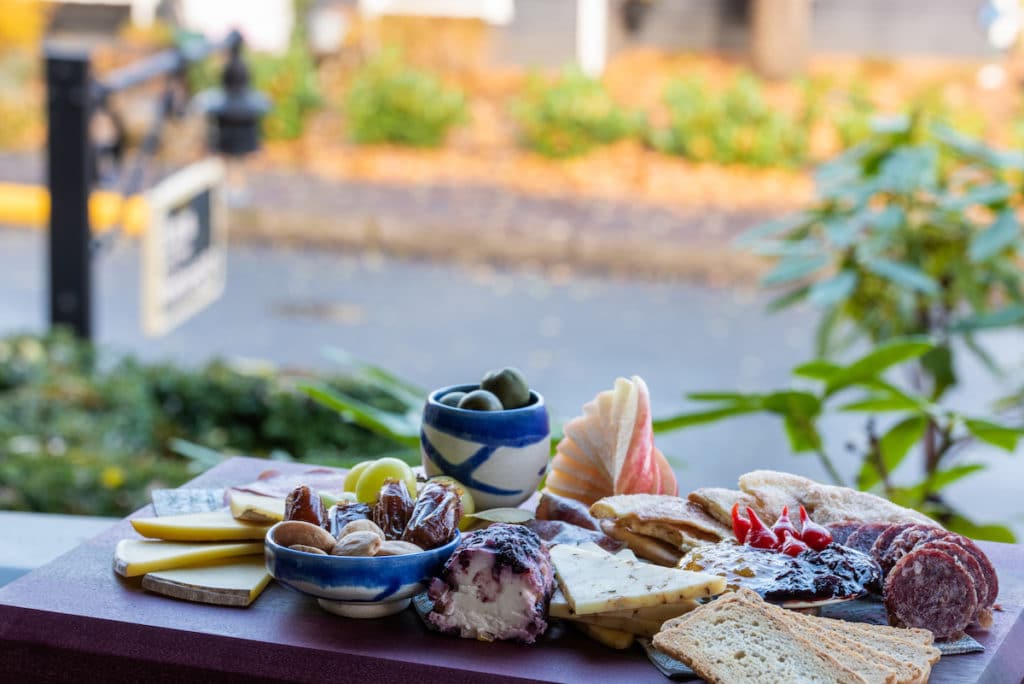 Elegant Add-ons at Our Hood River Lodging
As a guest at our Hood River Bed and Breakfast, you'll be able to choose the level of interaction you have with our staff. We're happy to be at your service, but want to provide unobtrusive help when needed. If you have any questions or requests, we always pride ourselves on going above and beyond whenever possible.
One of the best things to do in Hood River is enjoy our gourmet, homemade breakfasts every morning of your stay. Each meal is prepared with local ingredients and care. We can't wait to feed your body and your soul at our bed and breakfast in Hood River. Check out our upcoming availability and book your room today!