I consulted the Historical Society who gave a very bare bones account of the history of the Inn at the Gorge reconstructed from Tax records and a couple clippings in the Hood River News. Oral tradition helped fill in many of the details below:

The Inn at the Gorge was constructed between 1906 and 1908 and turned into a guest house in 1942 by Stewart E. Thomas – before he volunteered to serve in the French resistance fighting back the Hun. He knew he might not survive the war and he didn't wanted to leave his potential widow – Fanny Thomas – without an income .

Stewart did die while serving in the resistance. They say, the ghost of Fanny can sometimes been seen peering out the attic window waiting for Stewart to return. Sometimes she wails in the attic, but she's shy and usually times her wailing to coincide when the wind howls. During a storm, in moments of relative calm, you can hear her sobbing. After the war, Fanny refused to believe reports that Stewart had been executed by Nazis while attempting to sabotage a bridge near Rouen and never let go of the hope that someday he would return and, in an unsuccessful effort to stay young and survive until that time, Fanny aggressively pursued and seduced, then bound, let and drank the blood of many of her tenants.

Things got a little less dark in 1985 when The Inn at the Gorge opened as a bed and breakfast when windsurfing became popular in the Gorge. In one form or another the Inn at the Gorge has provided lodging to travelers since 1942. Since that time, under this roof, at least 13 babies have been born – no telling how many conceived – and at least 168 people have celebrated honeymoons… we've helped celebrate 100s of anniversaries! Fanny's ghost did try to let the blood of one lodger a couple years ago but afterwards we Saged the place. Her ghost refused to leave, but she agreed to knock off the blood letting.

They say every time a child is born or someone celebrates and anniversary or honeymoon, or family or old friends get together for a reunion, the ghost of Fanny rests peacefully for or at least a week. Her rest period accumulates and currently she's got several years good rest in the bank so there's nothing to worry about. Still, love can never die, and sometimes, late at night… when the wind blows… you can still hear the floor boards creek as Fanny paces the attic and sobs waiting for Stewart to return from the war. Enjoy your stay!
I'm originally from Trumansburg NY in the Finger Lakes Region of New York State. I attended Wake Forest University in Winston Salem North Carolina where I earned a Bachelors of Science in Biology and Philosophy, and where I spent most of my time playing and practicing saxophone, and working on outdoor focused research projects in plat physiology.
I later worked in neurophysiology, and lipid science research before going off-reservation and working on community garden projects while living in Chicago. While living in Chicago windsurfing became an organizing principle in my and, like any courageous windsurfer or kitesurfer should, I made a pilgrimage to the Columbia River Gorge to see what all the talk was about! I was unprepared for the dramatic beauty and spectacular climate and culture of the Gorge, and somehow found myself back in Hood River running a bed and breakfast just one year after my initial visit.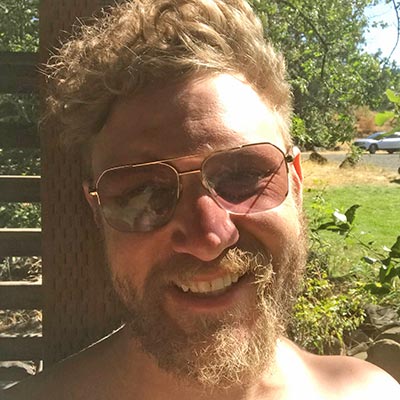 Your Innkeeper & Owner, Michael Sprague
I've never experienced a place with so much to offer in terms of outdoor recreation, neutral beauty, and a warm welcoming spirt. The Inn at the Gorge is my first venture in Hospitality and I took a simple approach. I'd learn from guests what they were interested in, and share what I loved about the Gorge to ensure visitors were supported in having the best experience during their journey to Hood River.
Hood River is an easy place to enjoy and I take pride in leading a small but gifted team that are dedicated to ensuring your visit to Hood River is every bit as magical and inspiring as mine was when I first came – but with the added benefit of local knowledge and experience.
When I opened the Inn I thought it would be an easy gig that would allow me to windsurf virtually all the time. I thought the tools I would use most would be a hammer, nails, and a paint brush to create a space. I was mistaken. I have been able to windsurf some, and I am proud of updating this historic and beautiful Inn. However, what I found myself doing more than windsurfing or renovating was experiencing the of joy of sharing such a unique and special place with travelers, visitors and explorers from all over the world.
When you stay at the Inn at the Gorge your travel experiences will connect you with the bounty, community and richness of Hood River and the Columbia River Gorge.
Thank you for considering staying at the Inn at the Gorge and letting us be a part of your team for most enjoying your journey to Hood River!