When looking for lodging for your next Oregon getaway, our Historic Inn is one of the best places to stay in Hood River. In the Northwest, we work hard and play hard—so we take relaxing very seriously too! At our Hood River Bed and Breakfast, you can take your vacation at your own speed. Our staff is available when needed, but we often allow guests to pick their engagement level. If you'd like a private retreat, you've got it. If you'd like help making reservations or suggestions on the best activities in Hood River, just let us know!
It's all about location, which makes us one of the best places to stay in Hood River. Our Inn is within walking distance from our favorite cafes, breweries, and tasting rooms—you'll be able to park your car and take the scenic route on foot. Or hop in your vehicle and take a beautiful drive to Multnomah Falls (the most visited waterfall in the Pacific Northwest), recreation at Mount Hood, and stunning hikes in the Columbia River Gorge.
Our Hood River Bed and Breakfast has six elegantly appointed guest suites—each unique and comfortable. While some are more tailored for a romantic getaway for two, we also have spacious rooms with kitchenettes—ideal for small family vacations. You'll love our shared backyard space for time relaxing outdoors by the fire table or in our oversized hot tub. It's the perfect place for our guests to enjoy evenings stargazing and spending time together. The Inn at the Gorge is one of the most amazing places to stay in Hood River. Book today!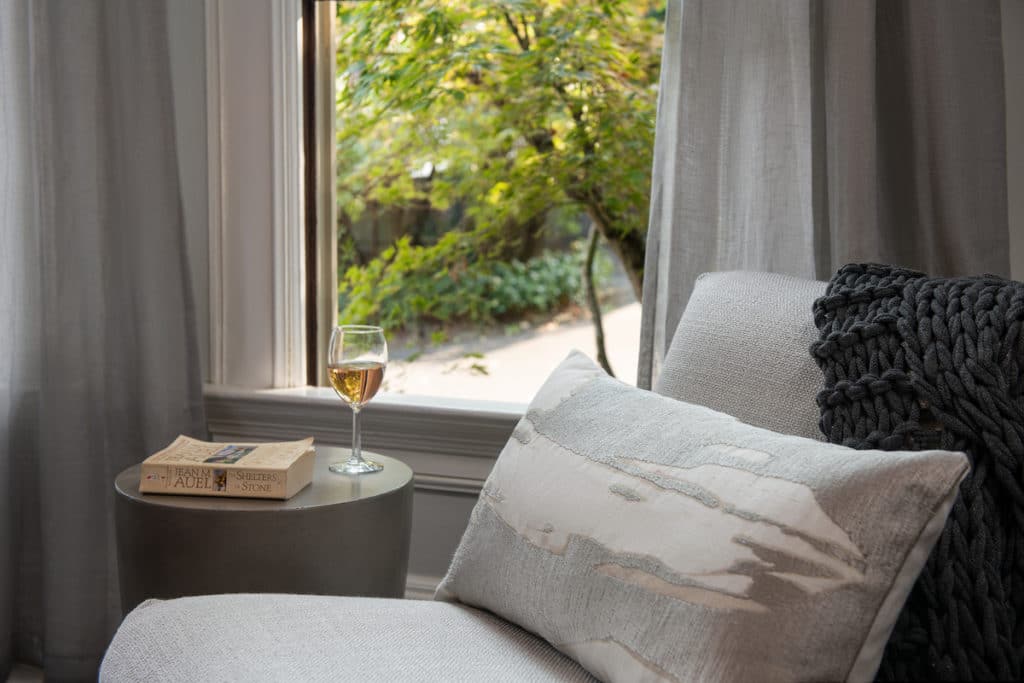 One of the Most Peaceful Places to Stay in Hood River
We're one of the best places to stay in Hood River for a low-stress getaway. If there's one thing that we've learned over the past couple of years, staying small is ideal: you'll never run into crowds at our cozy yet spacious Inn. We can also completely control our cleaning processes for the safest getaway possible. Our small, exuberant staff works hard to make sure our guests feel comfortable.
Read on to find out more about why our Inn is one of the best places to stay in Hood River:
A Historic Space: There's something particularly charming about our historic Inn at the Gorge—it's not something you'll find at a big box hotel. Architectural details and a sense of history permeate the space. At the same time, our modern upgrades and elegant touches bring the 115-year-old house into this century. You'll find complimentary high-speed wi-fi throughout the property, heat and air conditioning, and smart TVs in each room.
Guest Rooms: Our six spacious and comfortable guest rooms offer something for everyone. Our cozy, romantic suites are the best places to stay in Hood River for a getaway just for two. Additionally, our larger suites can accommodate small families. The Cascade Suite sleeps up to five guests with a king, twin, and full-size trundle bed. It's also equipped with a kitchenette, which comes in handy if you're traveling with kids.
En Suite Bathrooms: There are no better places to relax than one of our deep claw-foot soaking tubs for a bubble bath after a day on the trails. Most have lovely verdant garden views to sit back and fully reset.
Gourmet Breakfast and Light Noshes: We were so fortunate to hire Keith Potter as our Executive Chef last year. He comes with an impressive resume of fine dining establishments in the hospitality industry. Chef Potter desires to connect with the farmers and growers in our area to create a culinary program at our Inn that's locally sourced and as fresh as possible. Join us each morning of your stay for these tasty breakfast recipes!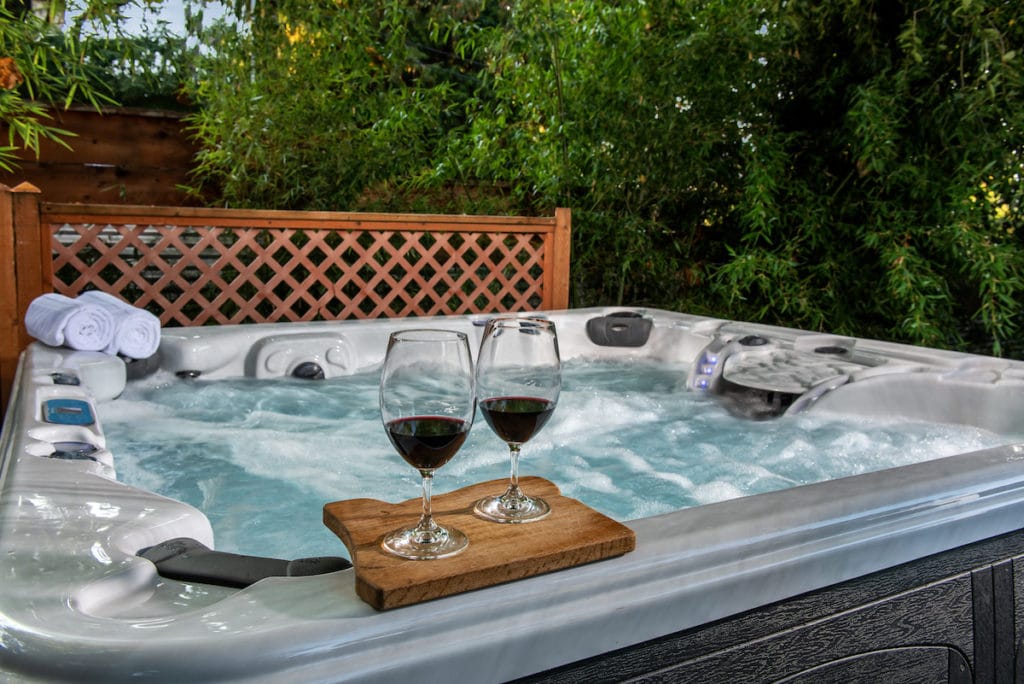 Backyard Hot Tub: Tucked away in our backyard garden oasis, you'll find our favorite spot to relax: our luxury spa hot tub. The tub can fit up to seven people, but more often than not, you'll have the spa all to yourself. This is one of the best places to enjoy a glass of Oregon Pinot, stargaze and rest your mind and tired muscles.
Location to Downtown Hood River: The Inn at the Gorge is centrally located to all of the fantastic restaurants, wineries, and breweries in Hood River. Only a five-minute car ride from the Hood River Waterfront Park, where you'll see the kiteboarders catching wind on the water and a host of paddleboarders and kayakers during the warmer months.
Extra Storage for Gear: We're also one of the best places to stay in Hood River for outdoor enthusiasts who plan on exploring the nearby mountains, Columbia River, and the lush wooded trails of the Gorge. As most of us know, these adventures often come with a lot of extra gear, and thankfully, we offer storage space precisely for this reason.
Knowledgable Staff:  A significant component that sets us apart from other lodging options is our incredible staff. We're truly one of the best places to stay in Hood River because of them! On your stay, allow us to help you plan adventures and make your stay the most comfortable it can be.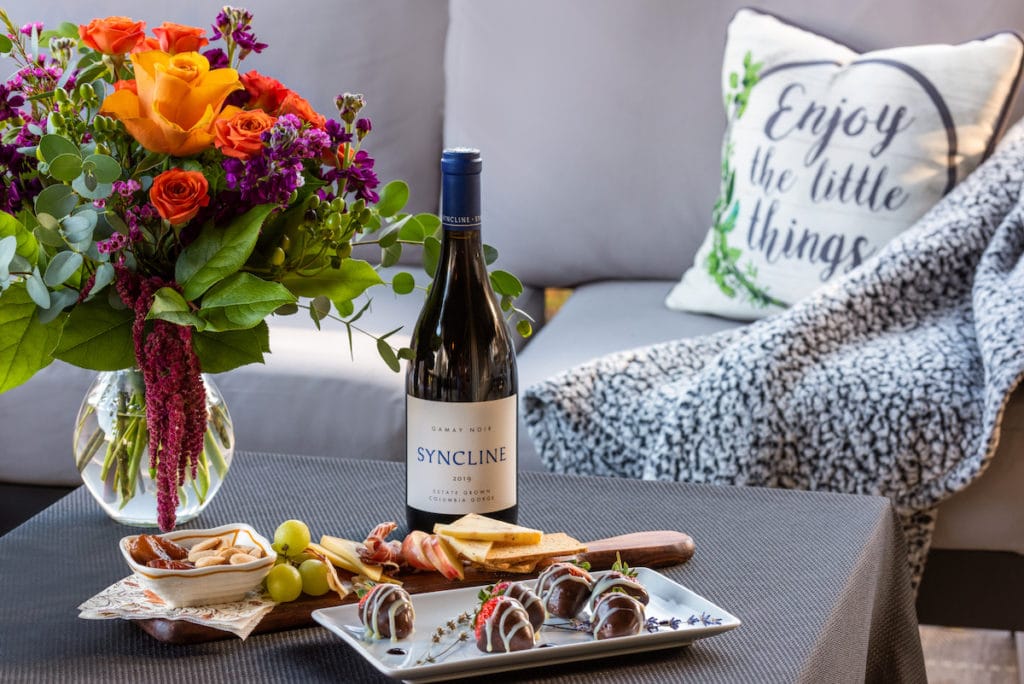 The Best Packages at our Hood River Bed and Breakfast
Our add-on packages are another small detail that makes our Inn one of the best places to stay in Hood River—it's these little essential amenities that can make a massive difference on your vacation. Items include local wines, charcuterie and cheese boards, or sweet treats awaiting your arrival in your suite. Call ahead to ask about our current unique additions to your stay.
We can't wait to host you in the Northwest paradise of Hood River. Book your next getaway today!