Mt. Hood National Forest is one of the best places in our area for hiking. In fact, it's one of the most visited national forests in all of the United States with more than four million visitors per year. Mt. Hood National Forest covers a huge chunk of the Oregon wilderness, including old growth forests, lakes, streams, and mountainous terrain. It's a true paradise in the Northwest for hiking, biking, and taking in the beauty of nature.
You'll find about 1,000 miles of hiking trails at the Mt. Hood National Forest, which even include segments of the ever popular Pacific Crest Trail. Loops and trails vary in difficulty and distance, but there's something accessible for everyone. So don't be deterred if you're just starting to discover hiking as a hobby. Fall is especially a good time to hike in the Mt. Hood National Forest, as the temperatures begin to wane.
Our Hood River Bed and Breakfast is right in the heart of downtown, but only about a 20 minutes drive to the amazing scenery and trails at Mt. Hood National Forest. It's the ideal location for a well-rounded vacation packed with outdoor activities, amazing dining options, tasty brews, wine tastings, and relaxation. Join us in Hood River for a trip to the northwest that you won't soon forget.
Check out Fall availability and book your next stay today!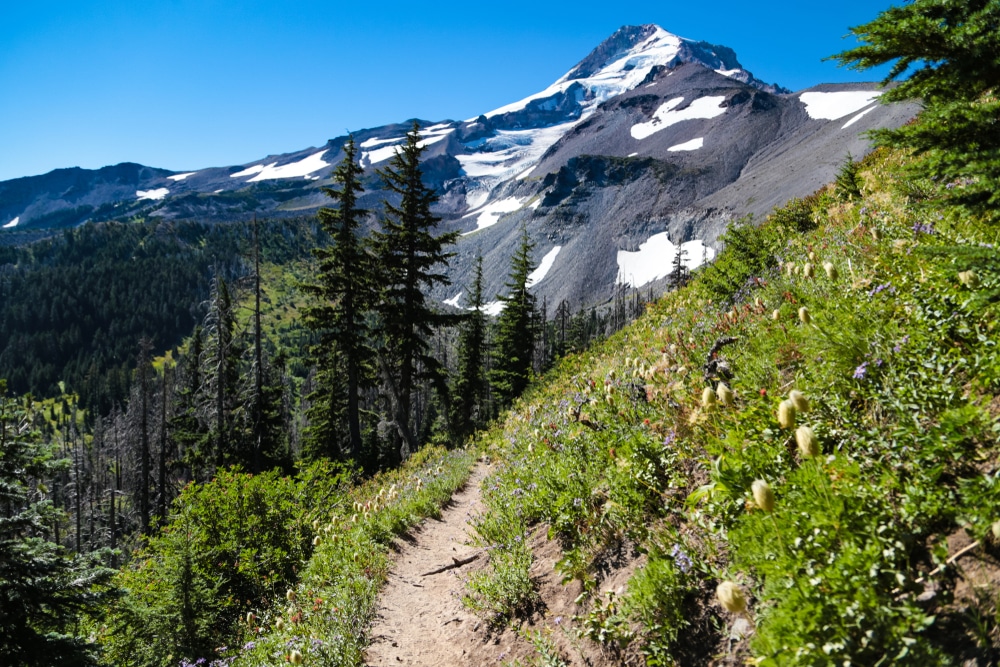 Check Out these Mt. Hood National Forest Hikes this Fall
Autumn is the perfect time for exploring the trails and woods of the Mt. Hood National Forest. The weather is the absolute best—the rain has yet to come and the temperatures begin to cool down. Make our Hood River Bed and Breakfast your home base and head out to explore all the beauty of the Northwest has to offer.
Check out these six amazing hikes at Mt. Hood National Forest:
Bald Mountain: This rated as moderate 6.1 mile trail takes you out and back through the rugged terrain of Mt. Hood. You'll expend a bit of energy on the first leg where you'll encounter the most elevation gain, but the views of the mountain are well worth it.
Tom Dick and Harry Trail: For distance hikers, this nine mile trail at the Mt. Hood National Forest has two main attractions not to miss. You'll encounter some of the most spectacular views of Mt. Hood, even double time, as Mirror Lake reflects the glorious mountain on a clear day. You'll find plenty of view points for great photo ops.
Trillium Lake Loop: This is one of the most popular hikes for novice explorers. Coming in at under two miles, this easy hike takes you by Trillium Lake. Plan on taking your time and sit on one of the lakeside beaches, a perfect spot for a picnic lunch.
Tamanawas Falls: This 3.3 mile hike is relatively moderate but ends with views of the amazing Tamanawas Falls. While you won't get those scenic peaks of Mt. Hood, the waterfall well makes up for it. The striking water feature makes this one of the best hikes in the Mt. Hood National Forest hands down.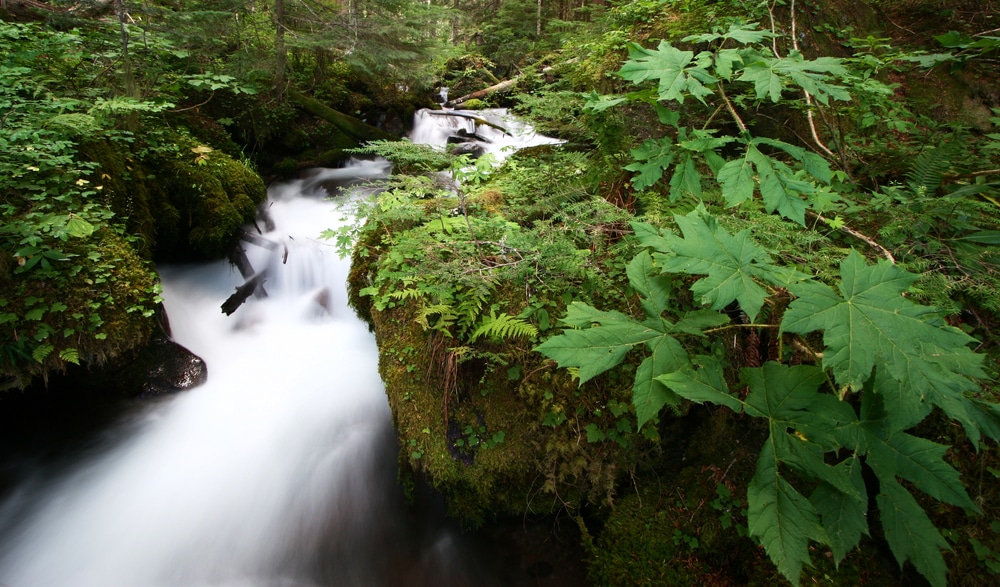 Umbrella Falls: Another great waterfall hike is this 3.9 mile loop in the Mt. Hood National Forest. It's a hidden gem trail, meaning it's rarely busy and sometimes is a bit overgrown for a full wilderness hiking experience.
Little Zigzag Falls: Follow along the Little Zigzag Creek to the fall on this easy hike in the Mt. Hood National Forest. Only one mile round trip, this a great choice for novice hikers looking to dip their toes in trekking through the wilderness.
There are miles and miles of hiking trails through the Mt. Hood National Forest, but there are so many resources for those interested in getting out into nature. We're happy to help with planning your day trips out to explore the area—just let us know how we can assist you! We also offer extra storage space here at the Inn for any outdoor gear you may want to keep safe in between adventures.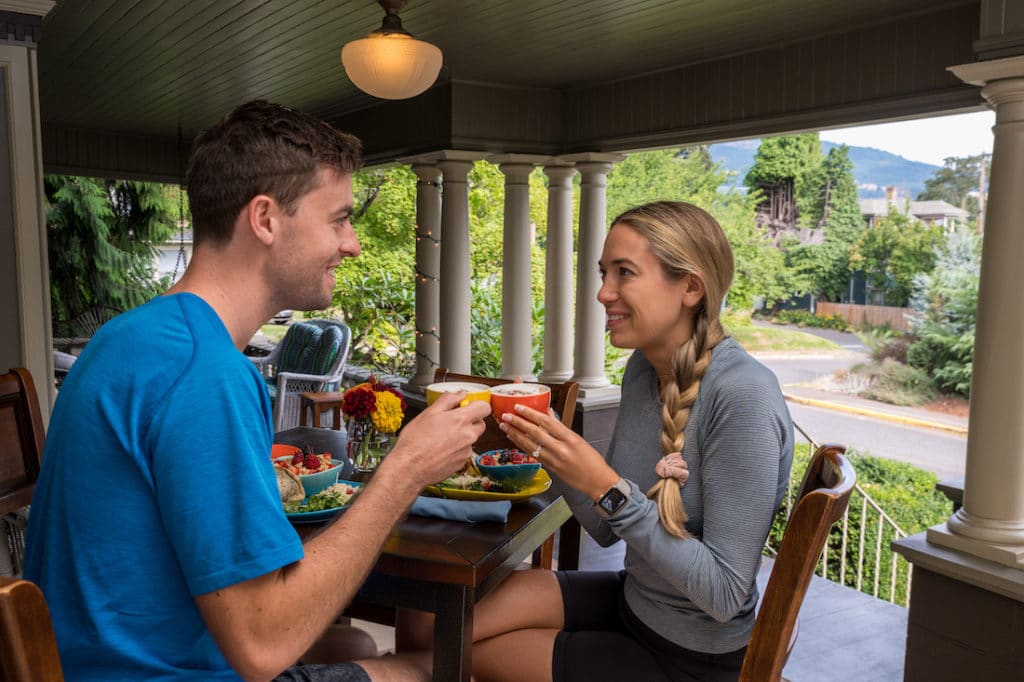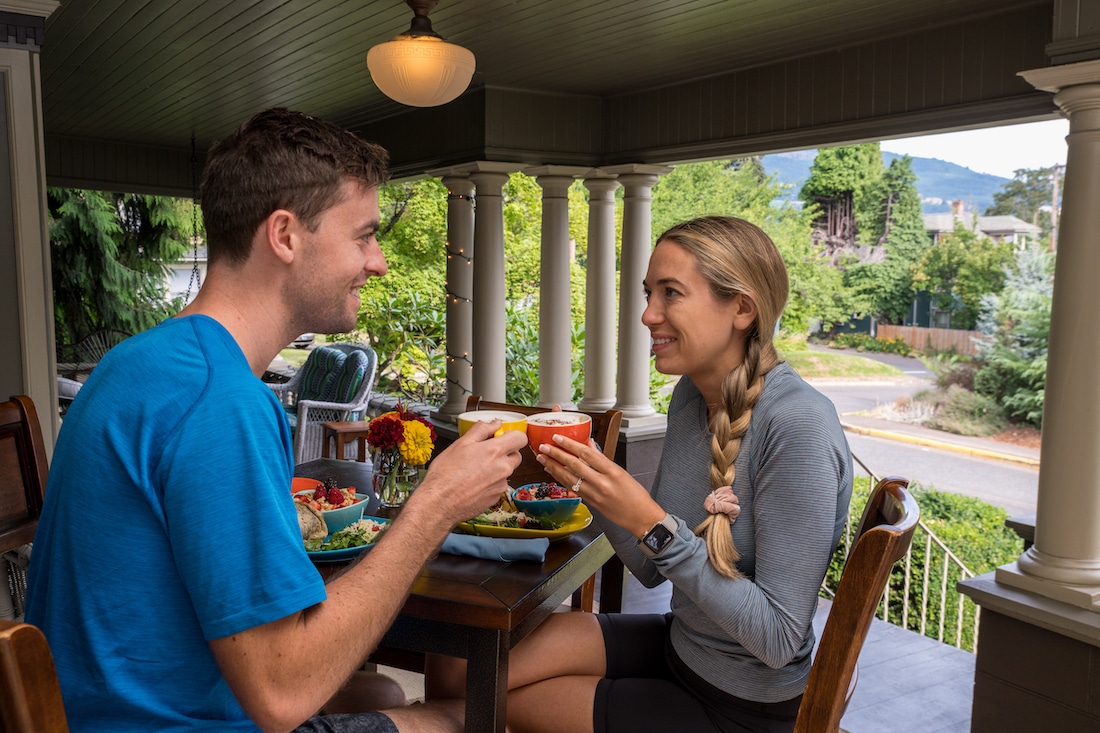 The Perfect Morning at Our Hood River Bed and Breakfast
Before you head out to hit the trails at the Mt. Hood National Forest, join us for a delectable breakfast spread. Hot coffee from Hood River Coffee Roasters, OJ, fresh fruit, and AM entrees like a flavorful strata. We use locally sourced ingredients whenever possible and we love to support our neighboring Hood River businesses as best we can. Breakfast can be enjoyed on the sun-dappled outdoor terrace or we're happy to wrap your food to go.
The guest suites at our Hood River Bed and Breakfast have the upmost comfort features for tired hikers looking to relax after a long day on the trails. One of our favorite places in the world is our giant backyard hot tub, it's the best place to spend the evening, soaking those muscles. Add a glass of local Hood River wine and you'll be in heaven! Start planning your getaway to Hood River and book today!