The landscape near Hood River is comprised of lush forests, rocky cliffs, gorges, and rivers—this classic Pacific Northwest geography creates some of the most impressive waterfalls in Oregon. The Columbia River Gorge is known for its beautiful hiking opportunities—some more popular and well-known and others a bit more off the beaten path. If you're on the hunt to see some beautiful waterfalls in Oregon, you've come to the right place!
Before packing your bags and planning your itinerary, you'll want to secure your lodging. Our Hood River Bed and Breakfast is one of the best places to stay in Oregon—especially for wilderness lovers and outdoor enthusiasts. Not only do we partner with local businesses like Brimstone Boulders to offer our guests rock climbing adventures, but we've created the ultimate space to relax in after your long hikes in the woods, kitesurfing on the river, or epic bike rides around Hood River.
Check out our array of accommodations and make your reservation today!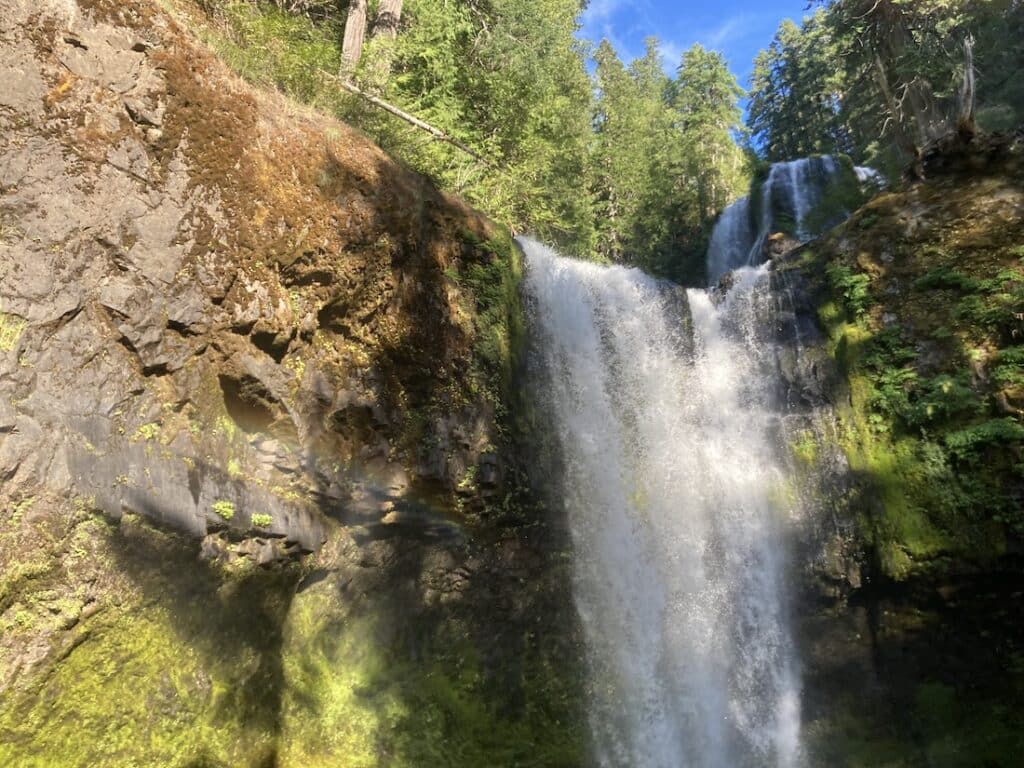 Day Trip Ideas: Waterfalls in Oregon
For those heading out to see the best waterfalls in Oregon, we recommend a few hikes—plus some of our favorite local haunts to replenish those calories and grab a much-earned drink!
Mosier Falls
You'll find one of the best little swimming holes at Mosier Falls. Head out on the Plateau Hike, a great route along the dry creek in Mosier, Oregon, with lots of little pools and small waterfalls. Overlooking the Columbia River and the Gorge, it's the perfect place to cool off when it's hot or take in the fall colors during the cooler months. This hike also takes you right by the Mosier Pioneer Cemetery, a perfect outing for an Autumn day close to Halloween.
Nearby, there's an uncrowded local hangout called Mosier Company with fantastic outdoor seating with scenic vistas of the Columbia River and the Gorge. We love the great local vibe, tasty food options, and extensive drink menu. If you're lucky, you'll catch a local band playing outside. The town of Mosier, in general, is a super cool little town with a laid-back vibe.
Falls Creek Falls
This is by far one of the most beautiful waterfalls in Oregon! The hike is about three miles round trip on relatively easy to moderate terrain. There's the main Falls Creek waterfall, plus large cascading hillsides and mountain streams. You'll rarely run into other hikers here, so you'll feel like you have the entire wilderness to yourself. There's a picnic table perfect for a quiet lunch.
Or, instead of a picnic, on your way back, plan on a stop at Backwoods Brewing in Carson, WA. They serve specialty pizzas, salads, and other pub food with local ingredients and a stellar selection of beers brewed on the premises!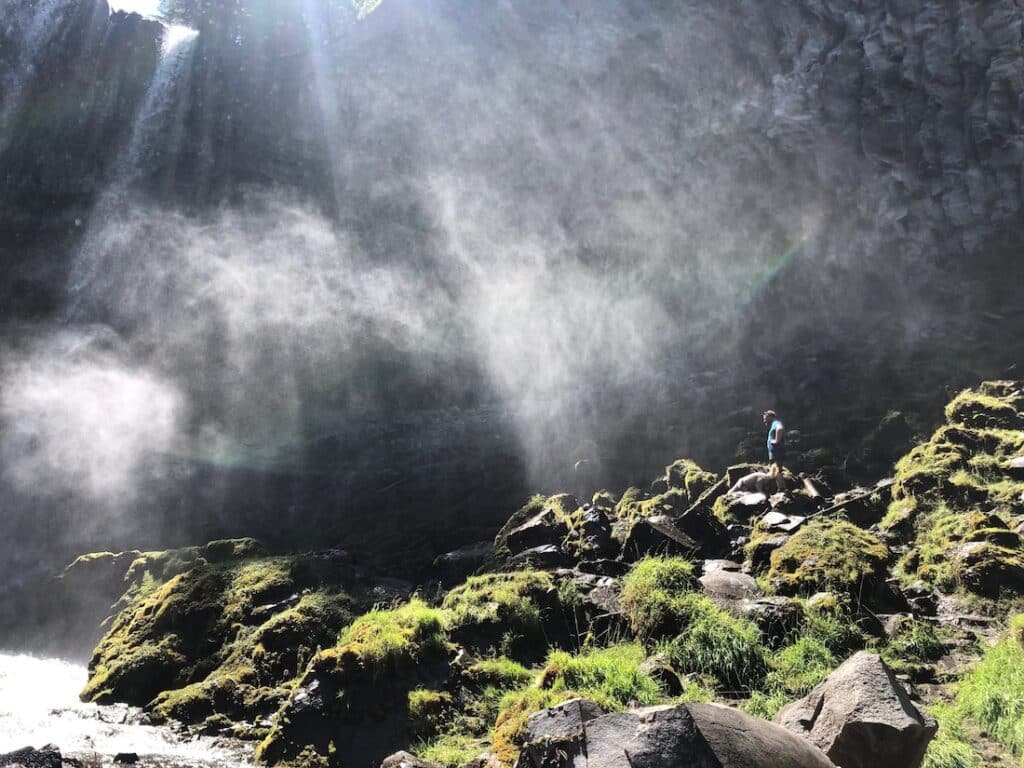 Tamanawas Falls
On this approximately three-mile round trip hike along an enchanting cascading mountain stream, you'll come upon one of the most magical waterfalls in Oregon: Tamanawas Falls. The angle of the rock and cascade of the water creates an epic spray (pictured above) that swirls around the canyon—the perfect way to cool off on a hot day or take in the changing of the leaves in Fall.
Plan on hitting Sawtooth Pizza as a reward! This longtime roadhouse is a popular spot for locals, visitors, truckers, and loggers and is a true Pacific Northwest gem. There's a family dining area, a spectacular outdoor patio, and for the adventurous, the tavern space, where you can drink like a true local and make a friend or two along the way.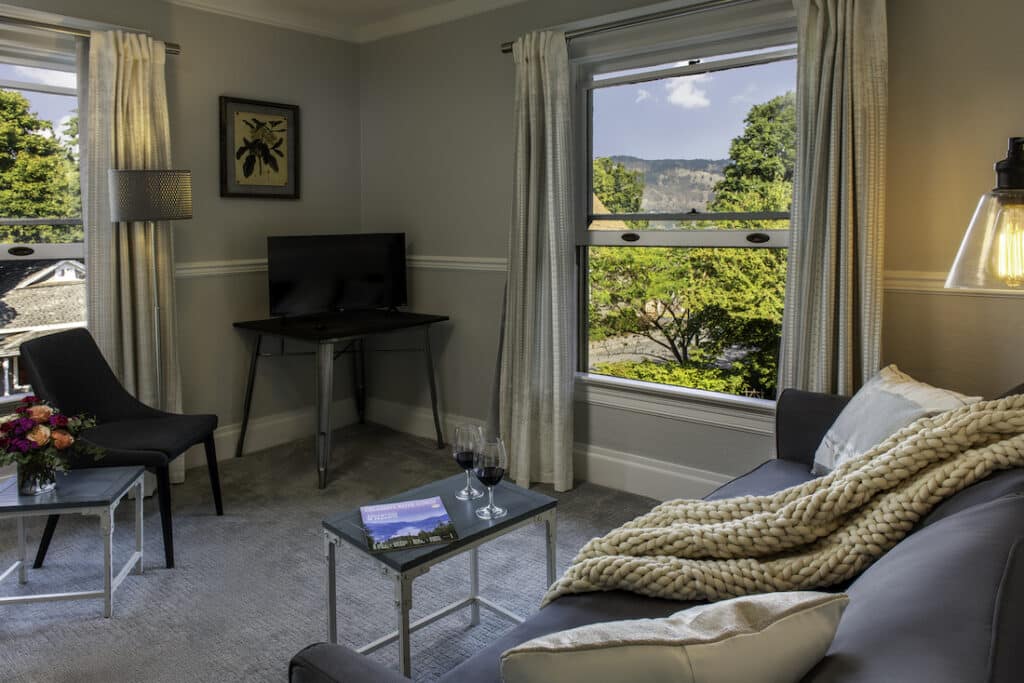 The Best Hood River Lodging for your Trip
After your adventure discovering the nearby waterfalls in Oregon, you'll love returning to the
Inn at the Gorge
. Our
cozy guest rooms and spacious suites
are the ultimate places to reset and unwind, especially after an exhilarating hike. Even better, head out to the backyard and soak your muscles in the hot tub under the stars.
One thing that sets our Hood River Bed and Breakfast apart from other lodging options in this area is our dedication to hospitality—join us, and you'll get to experience it firsthand!